Power outages are becoming more and more common in California. Here's how to choose the right backup generator to keep your critical business systems, or even your home, up and running.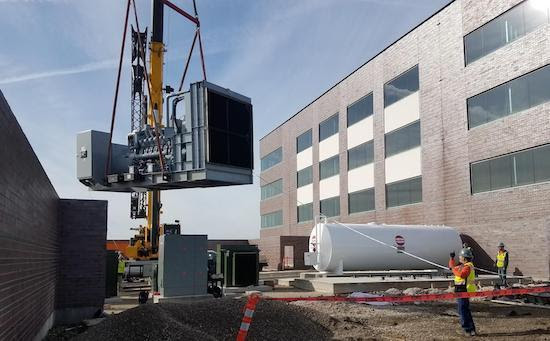 Whether it's your utility shutting down power for equipment upgrades, or disasters and Acts of God, power outages are a fact of life for homes and businesses in California. More and more of our clients are installing backup power generators to keep their businesses running through a power outage.
Once you've determined what size of emergency generator you need, which range from a few kW to power small homes and businesses to thousands of kW, the biggest decision to make in choosing an generator is whether to buy a Natural Gas or a Diesel unit. Both have their advantages and disadvantages.
A Natural Gas (NG) generator runs on the same natural gas that heats buildings and water heaters. If you have natural gas supply, then an NG generator will have a constant supply of fuel – you won't need to have an external tank or worry about running out of fuel. NG is cleaner burning and lower-emissions than diesel, and generates no perceptible odor.
The disadvantage to an NG generator is mainly that in the case of a natural disaster, your NG supply may be broken or interrupted. NG generators are also larger and more expensive than their diesel counterparts. For example, a 2500 kW NG generator is about 7′ longer than it's equivalent diesel generator and about 2.5x the cost.
A diesel generator, on the other hand, is typically smaller, cheaper, and more fuel efficient than a NG generator. Diesel is also less flammable and volatile, and diesel engines last longer and require less maintenance. Most level 1 institutions, such as hospitals and nursing homes, choose a diesel generator because, in the case of  disaster, they will have diesel stockpiled in an external tank while natural gas supplies might be interrupted.
The downside to a diesel generator is that you'll need an external fuel tank, and you'll need to stabilize the fuel as it may sit unused for long periods of time. While diesel generators are also typically louder than their NG equivalents, the newest models are getting quieter with each evolution. While fuel costs might not be a primary concern, bear in mind that diesel costs often fluctuate more than NG.
As you plan for an emergency generator, there are a few other key considerations:
What are the local/municipal regulations for generators? Are there any restrictions?
If you choose an NG generator, do you have adequate gas supply?
Do you have room for the enclosure, and if you choose a diesel generator, for the external tank?
What is your timeframe to have a system up and running? Typically, from the moment you start, the planning, permitting, municipal approvals, ordering the generator, prep, permits, and construction is about a year.
How long does the generator need to run? Just long enough to backup your servers, or does it need to run life support systems indefinitely?
How will you maintain the generator, and do you have safety plans in place? This can be outsourced if you don't have a maintenance team in-house.
If you'd like to learn more about how to choose the right emergency backup generator for your office, factory, or institution, give us a call at (805) 910-8300 or email us at 
info@andercon.net
. We're always happy to chat.